Not only did I get a
panini press
for my birthday, but I also got…a cat. Well, not an actual cat, but this: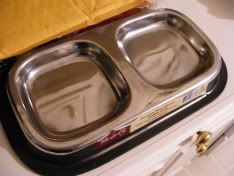 and this: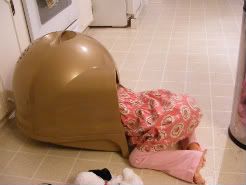 T. is trying the litter box out for size
and the promise that I could pick one out after the Labor Day weekend. Over a year ago this past April we had to put our beloved thirteen-year old cat Izzy to sleep. She had an aggressive form of mouth cancer and there wasn't anything we could do but that final, drastic, terrible thing. Even though we knew it was the kindest thing we could do for her, it didn't feel kind at the time. Both T. and L. had a hard time with the whole thing, and despite my best intentions, I think I flubbed explaining it all to T.
when I tried to read children's books
about pet deaths to her one afternoon, then breaking down into sobs; my crying, I think, traumatized T. more than the subject matter itself. We weren't sure we'd ever want a cat again. Izzy had been our baby; the kitten Scott and I picked out together, the cat who'd moved with us more times than she wanted to, and had put up with the arrival of first one child, then a dog, then yet another child. But when this past spring hit I sat outside one day looking at the cat statue in the front yard—the one we'd picked out to mark the spot where we had buried our cat's ashes. Then, in what started as a little glimmer, my missing our cat turned into my thinking about what it would be like to have
another
one. I want to do things right, though. I know I want to adopt our new kitten from the pound (I just can't imagine acquiring a pet any other way), and I want to make sure the kids are both included in the process, yet not exposed to any trauma along the way. The pound is a scary, heart-breaking place. When we adopted our dog eight years ago we took L. with us and, even at one, he was upset by the smell of the place, the metal cages, the many animals, and, I'm sure, my emotions about it all. We've talked with the kids about the pound, but I've left out the euthanasia side of it because, well, I'm chicken to go into it. There aren't a ton of books out there that explain the shelter process to kids. There is
this award-winning one
, and of course those lovable
pound puppies
, but it's clearly difficult to strike an acceptable middle ground between being honest about what happens to animals at the pound, and sugar coating the truth. It does seem that adopting an animal from the pound can be an invaluable way to help teach kids about the importance of responsibility and kindness towards animals, and I
definitely
want my kids exposed to that part of the lesson. So I'm torn: do I a) go myself first, find a kitten, then show the kids pictures and take them back to adopt it? b) make a huge family trip out of it, then deal with the emotions and the (possible) bickering over which kitten one child prefers over the other, not to mention their potential feelings about the ones left behind? Or c) just go myself (or Scott and I together, if we can swing it) and bring the one I/we love home? I'm leaning toward option C—my gut tells me this is the way to handle it. But I'm curious how other parents have dealt with the pet adoption business, and I'd love some feedback!