My T. turns five today. Five is big, I think; after all, it's half a decade, as L. pointed out last night, and half a decade IS big (um, not quite as big as being around for nearly four decades). We're having a big party for T. on Saturday, and today, her actual birthday, we're taking her here, and then out for pizza. I even set my alarm extra early this morning, and made her a chocolate chip waffle face: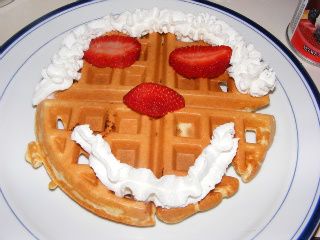 But I drew the line at her request to have a birthday Sprite served with it.
One of my favorite things about my birthday when I was growing up (and it's still true today) was getting to hear my birth story. I'm sure there were birthdays (my teen years?) when I rolled my eyes at the dinner table as my mom or dad launched into the tale of my beginning, but I know I still like to hear the story--to have my parents pull me back through the years to those early days of my life. Now that I'm a mom myself, I can better imagine what that moment was like for my parents, and so the story takes on a new meaning for me, and passing on the Birth Day stories of my own children feels even more like coming full circle--completing a legacy. So I'm including here T.'s story, which, like all Birth Day stories, is L.'s story, too, and my story, and Scott's--it's a story that touches--and will touch--all those who come into her life.
********
On January 12, 2004, I wedged my nine-month-pregnant self into our car and took L. to our local children's museum. I had forgotten, in my foggy state, that the museum was closed on Mondays, so when we got out of the car and headed, L. bubbling with excitement, to the door of the building we were greeted by a closed sign. His face crumpled immediately in disappointment and he burst into tears. He was 3-1/2 and I was trying, so desperately, to cram as much one-on-one time with him as I could into the two weeks remaining before my due date. The semester was over, we had celebrated Christmas at our own house, and I was anticipating a full eight months off work to be with both kids. Both. It still seemed an unreal thought to me, the idea of being a mother of two. I carried L. back to the car, holding him above the bulge that was T. My back hurt. My legs hurt. Everything hurt. My limbs felt loose and stiff at the same time, as if they were held together at the joints by tight rubber bands that flexed and pulled with every step. We drove to the other side of town to another less popular children's play spot and I sat on the kiddie chair and watched L., who was playing in the serious and focused way he still has, as he moved about the pretend grocery store.
When we got home I fed him lunch and we went for a walk together, his hand in mine, and we talked about what we saw that unusually mild day—a couple of snowdrops by the neighbor's fence, a fallen penny by the grass, a stick shaped like the letter "L." He skipped along beside me and I felt a sudden overwhelming rush of bittersweet sadness at the thought of how his world was about to change—in good ways and bad ways—and that the moment that was this walk, his small hand tightening and slackening in mine as he skipped forwards and back again, could never repeat itself again.
Lying in bed with L. that night, waiting for him to fall asleep, I felt the contractions start. They were unfamiliar at first (I was late with my son and induced), but then I was aware that the pain had a pattern that continued on long after L. had fallen asleep. I remember pacing around the downstairs family room at midnight, with M*A*S*H reruns on in the background, while Scott frantically prepared class material to cover the week he would take off after the birth. We woke L. up at 2:00 and drove to the hospital. He was excited at seeing the dark and empty streets, the lights lining the roads; awed at the walk into the empty but warm hospital. Only later, when it came time for needles and lines and pain, did he say, I want to go back home. T.'s early arrival meant no arrangements had been made for someone to be with L., so when T. was born at 7:50 a.m. on January 13, Clifford was on in the hospital room and I remember catching sight of the Big Red Dog and L.'s face, turned intently up at the screen, and then I heard T. cry as she was born.
*********
When my T. runs, it's as if she's running on air. Her feet trip along in fast little steps and her hair flies out behind her. She might stop and look back at me and smile a mischievous smile. Sometimes I hang back and watch her and marvel at who she is; other times I rush up behind her and scoop her up and kiss her cheeks.
She's exuberant about all things. She is the most positive person I think I have ever met. I often tell T. she's my sunshine girl, and that, when she was born, a piece of sunshine lodged inside her heart, where it beams still, shining out on all those around her.
Happy birthday, T-girl--we love you.