Am I the only parent who sometimes tiptoes around the house when the kids are busy by themeselves, for fear that once they hear me, they'll remember they needed/wanted something?
Somehow, I don't think I am.
Yesterday I had a huge to-do list to work through. We had a wonderful, busy, fun weekend and my parents were in town, too, which made things more wonderful and busy and fun. We ushered in fall by going to two festivals: the annual International Festival downtown, featuring food and crafts and music from all around the world, and the first annual Oktoberfest, also downtown. The weather was crisp and perfectly fall-like, and everyone seemed infected by the lifting of the heavy, hot summer temperatures. But as most--if not all--teachers know, Sunday is a bittersweet day. Too much play on Saturday means all that work for Monday gets pushed into one day, a day also loaded with getting-ready-for-the-week chores like laundry and baking and helping L. with weekend homework.
Sometimes Sunday makes me feel very grumpy, and very overwhelmed.
So when I came out of the shower on Sunday morning and heard T. busily playing in the room, I tiptoed carefully downstairs past her room. L. was in the office, also busy, with the door closed. Scott was at a tennis match, and the house was quiet, in that way that takes you by surprise when you're a parent. When kids are very, very little, too much quiet never bodes well (I can't tell you the damage that was done when the kids were little, always when things got eerily quiet); but when your kids are older quiet is a good thing. It means they're reading, or absorbed in some task and you hold your breath, because such quiet is always a very tenuous thing--at least at our house.
And it must never, ever be messed with.
******************
We have a favorite phở soup restaurant, not far from us. If you've never had pho soup before, it's a delectable mixture of broth, veggies, tofu (if you're eating vegetarian pho soup), fresh herbs, and lots of rice noodles. Meat versions often have shreds of meat or fish or even really (I think) unappetizing things like whole eggs in them, but why anyone would want to clutter up a perfectly delicious bowl of soup with all that, I can't imagine. The pho restaurant we love serves a wonderful vegetarian soup, and it's the ultimate comfort food. A week after I recovered from the swine flu a couple of years ago, we went to the pho restaurant and I inhaled a huge bowl of soup. I swear I felt fully restored to health, after just one bowl.
The fall weather, and the fact that I'm coming down with yet another cold, made me crave a big bowl of pho soup. I was at our grocery store last week and found a carton of this, and visions of pho soup danced in my head all week long. So on Sunday afternoon, while T. was resting, and Scott and L. were wrestling through his math homework, I put together the pho soup. If you can't find the pho broth ready-made, you can make your own. This site has a good recipe, and this one, too. If you can find the Pacific brand of pho broth, though, use it. It was perfectly flavored, with just the right spices, and made the whole process a whole lot simpler.
The beauty of pho soup is that you can add lots of different vegetables and never mess it up: I made ours with carrots, broccoli, baby bok choy, and baby corn. I added tofu, scallions, fresh ginger, and snow peas. Scott and L. had made a run to the Asian market earlier in the day, and came back with bags of the puffy, fried tofu balls we love so much. These were perfect in the soup, although you could certainly add cubed extra firm tofu instead.
The key to a good pho soup, I think, lies in the garnishes: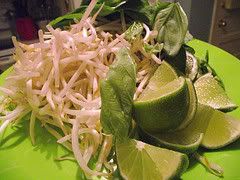 Handfuls of bean sprouts, sliced limes, fresh basil, and, if you like a kick, some sliced jalapeno peppers. While the broth and veggies were simmering on the stove I squeezed a lime over it all, added a dash of hoisin sauce, and about 1/2 cup of tamari sauce. The soup cooks quickly and you want to make sure you don't overcook the veggies. Add the thin rice noodles at the end, straight from the bag. They only need to cook by soaking in hot water for 5-10 minutes. If you're using a wider noodle, you might have to cook them first, and then add them to the pot.
Ladle the soup into bowls, and offer up the plate of garnishes. The kids put the basil into their soup, and squeezed lime into the broth, while Scott and I went for the fresh jalapeno peppers and bean sprouts.
I'm not sure we'll ever need to go back to the pho restaurant again. This soup was amazing, and satisfying, from head to toe.! L. slurped down two bowls of it and we polished off the whole pot for dinner last night. 
It was pho heaven.