If Thanksgiving is my most favorite holiday, the day-after is pretty great, too. There's no need to be in the kitchen cooking and baking, yet we get to enjoy the fruits of that labor all day long, if we choose. I like the lazy, quiet feeling of the house on the day after Thanksgiving. I like the way the house smells--still warm and aroma-filled from the cooking and baking of the day before. And then there's the promise of decorating for Christmas, those bins waiting in the crawl space for the lids to be popped and then, overflowing, the plush Santas and the Christmas village, and the candles that smell like cinnamon, and the jingle bells and the ornaments and lights. But not yet. Today is that in-between day, set aside for just enjoying, pure and simple.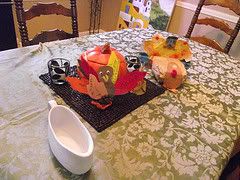 ***************
Aside from the Quorn roast (which contains some egg white), we had an almost entirely vegan feast. I was so pleased with the way almost everything turned out.
There was the artichoke stuffing, veganized accordingly.
I also made dinner rolls, and L. ate four of them (and nothing else). And my cranberry sauce? Heavenly. Adding maple syrup instead of only sugar really gave the sauce the right sweet and tart ratio, I think.
And the heaping plate of roasted veggies. I found some purple sweet potatoes this year and they were wonderful--melt-in-your mouth luscious, and so aromatic when roasted.
We had, of course, the Tofurky roast, and the Quorn roast, served with vegan mushroom gravy. I made these protein mashed potatoes and they were not only velvety-creamy delicious, but the addition of the pureed navy beans gave them a satisfying edge you don't find in plain mashed potatoes.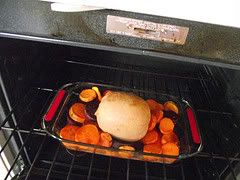 For dessert I made Angela Liddon's Brownie-Pumpkin Pie with Crunchy Pecan  Topping (I used walnuts) and it was out of this world delicious! It was, I think, by far the favorite dessert of the day. Do you remember those elusive pumpkin brownies I keep looking for? These came the closest to them ever!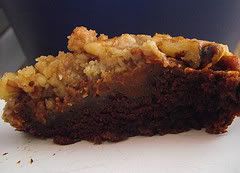 T. couldn't get enough of it, and I'm already thinking about when I can slice myself another piece. I also made a vegan pumpkin pie. I tried the trick of adding pure cocount cream to the pie filling, to add that richness and texture you get from using eggs. It worked! This was the best vegan pumpkin pie I've made yet, and I don't think anyone at our table missed the eggs and dairy.
And the best part, of course? Leftovers!
Happy weekend!