If your family is anything like my family, then you probably have many well-meaning relatives who generously send you lots of photos. Yet they are always relegated (the photos, not the relatives) to the insides of envelopes or, worse yet, end up stuffed in the catch-all box by the telephone (like ours). Sometimes we get gifts of photo albums along with the pictures, and this is much appreciated--because even though it should be pretty simple, theoretically, for us to buy an album now and again when we're out and about shopping, somehow this never happens. Who can remember to buy an album while trying valiantly to stick to a Target list with things on it like toilet cleaner, new underwear for the kids, and rabbit food? And so the pictures pile up. And pile up. And pile up. When the kids were small, we used to get baby product catalogs from various companies that sell overpriced things, which they try to convince us we absolutely need. One of these things appealed to me over all others: an over-the-door photo holder with laminated pockets. The idea was that you could insert all the snapshots and odd photos from family members near and far, and hang it where everyone (especially the kids) could see it all the time. I liked the thought of my kids seeing the faces of aunts and uncles and cousins and even great-grandparents right there, all the time, but the holder was expensive and we never bought it. Our fridge now serves as the primary repository for many photos, but what with school notices and other papers vying for space, we now have very little room to tack up pictures, and the front of the fridge is starting to look pretty messy. I like framed collages, but you can only have so many. And once you spend the time making one, it's hard to justify taking it apart months later to add new pictures into the frame. So this weekend I set out to make a user-friendly and inexpensive family collage out of all the photos that have been living in envelopes for the past few weeks and months--a collage we could keep up for a while, and then easily switch out the photos when we get a new batch. T. and I spent about an hour at the craft store looking for just the right things. We found: One foam board sheet, $1.50 One bag adhesive photo corners, $3.99 (they look like this):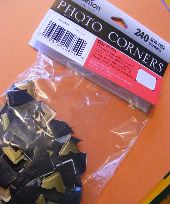 Four wooden ornaments, $.59/each One pack sticky mounting squares--the heavy-duty kind that won't damage wood or paint, $3.99 The kids and I sorted through several envelopes of photos, which was all part of the fun, then we decided how we'd mount each one. The photo corners easily held the photos into place without any additional glue. We tried to arrange them in such a way that we could easily pop out the pictures and replace them with ones of the same size when the time comes.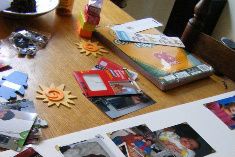 After we had decided on all the photos, T. glued the wooden ornaments onto different corners, and added a few stickers for her own special touch. We mounted the foam board on the front of our family room door, where all can see it.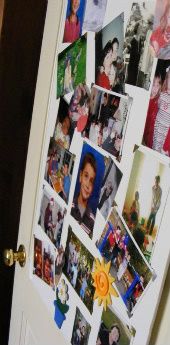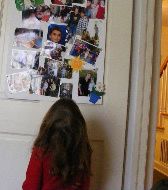 I'm already thinking these collages would make great gifts for other relatives--the kids could decorate the foam board with their own special touches, making it the perfect homemade gift for family near and far--something tangible to connect our here-and-now with the faces we love.