Yesterday afternoon I was chatting with a colleague and commiserating with her over how little we've been getting done these days. The work has been piling up, yet our energy and motivation seems to be grinding slowly to a halt--winding down, notch by notch. I'll sit at the computer and try and work, then look up and see the sunlight filtering in through the tall holly trees and oaks in the backyard. Or, I'll foolishly think I can grade papers on the hammock, of all things, and then wonder why I'll end up reading the same bad paragraph over and over again, looking up every two seconds to fill my eyes with the sight of the flowering dogwoods. I remember this late-April grinding-to-a-halt, spacey, I-just-want-to-be-outdoors feeling from my college days. This time of the year is when all the students used to skip classes and camp out on the mall, setting up shop under the trees, books propped open on knees, or against the grass, and pretend to be studying. It's a hard time of the year--you need to dig deep and work through the sunny days and cloudless skies, yet it's hard to turn a deaf ear to the siren call of the waving green leaves, and the pinks and whites and purples of the new flowers everywhere. It's funny to me that we think about Earth Day only in April when I always think all the seasons of the year are worth celebrating. But I think April is the month we feel Earth's potential the most--the glorious, deep-down, reassuring power she has to regenerate and renew; to unfold and uncurl the most splendid new life out of even the darkest of places. Maybe deep down, in all of us, is some primal fear that spring won't come, or that it will, and leave us behind. ***************** I had very ambitious plans at the beginning of the week to make a cake for Earth Day, or maybe some wonderful cupcakes,
like these.
Ha! Then, the week happened, and it also didn't seem responsible to make cupcakes adorned with gummy worms when your five-year old just finished having $1400 worth of dental work done. Instead, we spent Thursday afternoon, our Earth Day Redo Day, outside, digging in the sand (playground) and dirt (home). We planted these dainty white impatiens around the statue we bought last year after our cat died.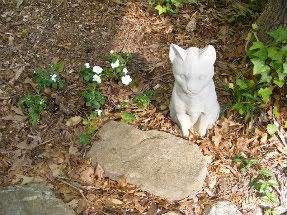 And T. and I put some Greek basil in the ground, and weeded the herb garden (that ivy!). For dinner, we made one of my spring/summer favorites, apple pizza: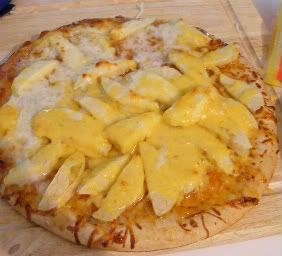 We ate outside on the porch, lit candles and each made a wish for the Earth, that consummate, ever-patient, ever-loving, sometimes wrathful, always beautiful mother of us all.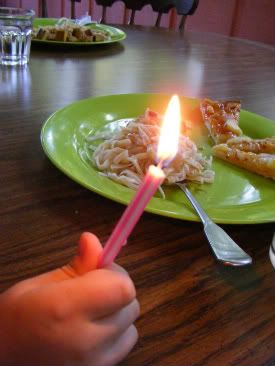 ***********
Apple Pizza
(courtesy of Mollie Katzen's
Vegetable Heaven
) 1 Boboli Pizza crust Apricot jam (enough to spread over the crust) 2 or 3 peeled apples (I used Fuji) Cheddar cheese (enough to sprinkle on the top and melt) Spread jam over the unbaked crust. Arrange thin apple slices over the jam and then cover with a generous sprinkling of cheddar cheese (T. put mozzarella on her half because she doesn't like cheddar). Bake in the oven at 450 for about 20 minutes, or until the apples and cheese are lightly browned and bubbling.
Happy Weekend!