After yesterday's post, a few readers commented and e-mailed asking if I had any tricks or ideas for making lo mein at home. Ideally, you'd buy authentic Chinese lo  mein noodles--these are thick and chewy, but if you don't have a handy Asian Market near you, liguine noodles are a good substitute, or a thick spaghetti noodle. What you really want for good lo mein is some type of toothy, chewy pasta that holds the sauce well. L. is a purist and will NOT eat lo mein that's made with pasta noodles, but the rest of us have found that a more than suitable substitute. Many grocery stores also have an Asian food section, and you can buy Japanese soba noodles, which also work well. Avoid the thinn egg noodles and rice noodles, because these won't work well with traditional lo mein.
L. would tell you that the key to good lo mein is to have the perfect "noodle to vegetable ration" which means, for him, that you shouldn't more noodles than vegetables, or vice versa. He always laments that my lo mein sauce doesn't match the sauce he gets at his favorite Chinese restaurant, but I have come close to perfecting it. I combine a 1/2 cup of Hoisin sauce with 1/4 cup of soy sauce, some water (maybe 2-3 tablespoons) and a little corn starch (again, maybe 2 tablespoons). I whisk it all together so the starch doesn't clump and I pour it into the wok or frying pan just before the veggies are almost done. If you pour it in too early it will cook off and your veggies won't be as saucy as they should be for lo mein.
Other tips:
Saute a little garlic and ginger together in oil before adding veggies. If you're keeping this vegetarian, add the tofu next and cook until it crisps. I like to fry to tofu along with the ginger and garlic because this adds flavor to the tofu.
You can add any veggies you like: cabbage, shredded or diced carrots, snow peas, sugar snaps, bok choy, celery, even. Add bean sprouts at the end, because these will wilt and get mushy. Broccoli is a must, as far as I'm concerned, because the florets hold the sauce so well. Whatever you do, though, make sure you time the veggies right so that they are still cripsy-crunchy. Nothing is as unappetizing as soggy lo mein vegetables. I'd rather undercook mine than risk going soggy.
Add the sauce at the end, and then, in small batches, the noodles. You can also top the noodles off separately with your veggies and tofu, which we do often, but adding the noodles straight to the pan will allow them to be coated with all the garlicky-saucy yumminess that is so much a part of lo mein.
*******************
And since we're on a great Asian cooking kick this week...
My kids love Chinese dumplings--we call them potstickers. To qualify that further, they love one particular brand and one particular brand ONLY of frozen potstickers, despite lots of failed efforts on my part to cook up different ones. I have to admit they're kind of right in their love of this particular brand. I don't like my potstickers to be too heavy on the mushroom taste, and the cabbage-to-carrot ratio has to be just right. I have never, though, tried to make my own potstickers--or Chinese dumplings--before, because those frozen ones were just so convenient, and so loved.
But last week, while my students were busily writing their hearts out during a placement exam, I leafed through the textbook for the course and happened upon this essay, originally published in the Wall Street Journal. It was exactly the kind of essay that gets my juices flowing--rich, savory descriptions of a food tradition peppered with nostalgia-laced writing about the author's childhood. It didn't help that I was hungry when I read the piece, and hungry for Chinese dumpling all of a sudden. I decided that I must have them by the end of the weekend. I spent some time on Friday clicking through vegetarian dumpling recipes and found a couple of good ones--including this one, which I ended up adapting a little on Sunday when I made them. Amy Ma's recipe for dumpling/potsticker dough looked easy, but I wimped out and bought a package of ready-made won ton wrappers instead.
The verdict? I would definitely make these again. I modified the recipe and used half of a yellow onion and diced scallions, and plenty of chopped ginger. I also used prepared broccoli slaw for the filling, and sauteed it all with the onions, scallions, and ginger. I seasoned the filling with hoisin sauce and soy sauce, and salt with a dash of pepper.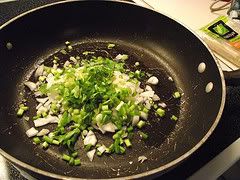 Stuffing the wonton wrapeprs took time, but with some music in the kitchen, and small hands helping me along, it was painless and even fun. They cook quickly in the pan, so to avoid the dumplings sticking to the bottom, make sure you pour in the water quickly to get the steamed effect. I served them with plenty of sweet soy sauce for dipping, and a mixture of hoisin sauce and rice wine vinegar. 
On busy nights I think we'll turn to our frozen favorites, but I will definitely make these again on a weekend. We had company over to help us gobble them down, but you could easily make a large batch and freeze to cook on those frantic weekday nights.