I have a thing about
shoebox dioramas
. You know, those charming shoeboxes filled with miniature scenes? When I was in elementary school I remember making lots of dioramas. I loved the challenge of coming up with creative ways to make my shoebox scene come alive. Sadly, I think, dioramas have fallen by the wayside in elementary school curriculum--L. has never had to make one yet, and I'm curious to see whether or not T. will have the chance to make one in school. I love dioramas so much that I will go out on a limb and say, too, that I think a child's education is lacking when they don't have the chance to produce a diorama--either in school, or outside of school for a curriculum-enhancing project. In fact, when Scott and I visited a private school earlier this school year
during a period of great crisis
and shattered faith in L.'s school, the one thing I latched onto more than anything else was the fact that the teacher who gave us a tour mentioned the word "diorama" over and over again when talking about the students' history unit. And while there were many other things she mentioned that didn't sound too promising as far as the school went, I kept hearing the word "diorama" over and over again in my head. "But they do dioramas!" I told Scott in the car as we discussed the pros and cons, as if a good diorama was the answer to everything. L. and I have done several dioramas over the years. We made one with a Civil War scene, and one from ancient Rome. Our recent one was this battle scene
done during L.'s period of fascination about castles and knights. It was much more impressive looking before the kids pilfered it for this and that over the past year. We'd even made a low stone wall with rocks glue-gunned together. T. and I haven't made a single diorama yet. We've made
fairy houses
, and tons of other crafty activities, but she's been diorama-deprived until now. I've also been feeling the absence of her presence in the afternoons now that she's in kindergarten, and we've lost some valuable Mama/T. time during the week--precious time when we'd often tackle a kitchen project, or work on a crafty activity together before heading off to pick up L. from school. I decided early last week that I'd try and get the kids involved in an art/craft activity and gave them a choice: T. picked making a diorama; L. decided to fill up a huge sheet of easel paper with clone troopers (more on that later). As it happened, T. and I had just watched
this movie
, which is a VERY loose (did I say VERY? Because I
really
meant it) adaptation of the
Thumbelina story
I loved so much as a child. When I asked T. if she wanted to make a diorama with me, she knew exactly what she wanted to do: a scene from the movie, of course. We assembled our supplies: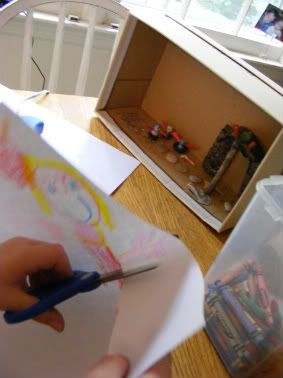 Send your kid(s) on a scavenger hunt through the house and back/front yard to find the perfect things for the shoebox diorama
And T. worked on Thumbelina while I used the hot glue gun to assemble some of the scenery.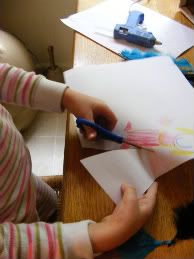 T. came up with the idea of gluing beads together so we could make the tiny
twillerbabies
(yes, there IS such a thing). We cut feathers to size, made little wings out of paper, and nestled them in acorn cups.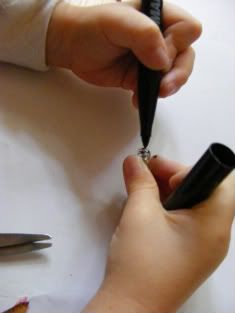 T. drew the faces on with a permanent marker
When we were done we set the diorama on the windowsill and T. gazed at it raptly for a long while. "It's perfect," she said, with that flush of satisfaction kids get when they survey their handiwork. And it was.