The first Valentine's Day Scott and I shared as a married couple, I decided to make an elaborate cookie recipe that I remember took me almost 1/2 day to complete. Looking back, I'm sure the recipe wasn't all that complicated, but I hadn't baked much if at all back then, and so it probably took me double the time, and more angst and stumbling around in the kitchen than it ought to have taken. Plus, it didn't help that our kitchen was a true galley kitchen, and you could literally stand in the midle and touch both sides of the counters on opposite ends. The cookies were some kind of heart-shaped sandwich affair, with a heart cut-out middle, and lots of rasberry jam, and dusted over the tops with confectioner's sugar. I'm sure they were good but, of course, I remember the process of it all rather than the results.
I try and make a special cookie every year for Valentine's Day, but I know I've skipped many years in-between--like the ones when I was nursing a newborn, or too exhausted to even open a package of dry noodles, let alone bake something. This year, I definitely felt the baking bug bite, but I wanted something simple, yet memorable. Something with maybe a taste of cherry, something I could easily veganize if I needed to so, of course, I could enjoy the results, too.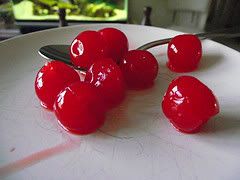 I found a very easy-looking recipe from Taste of Home, and I was sold. It didn't look difficult to veganize at all, since taking out butter and milk is a cinch. By all means, if you must do with butter and milk, leave it in. But here's the recipe as I adapted it, and I'm sure the dairy parts of it weren't missed at all. I left out the glaze recipe and melted a cup of vegan dark chocolate chips, combined with two tablespoons of almond milk. When the cookies were baked and cooled, I dipped the tops of each one in the chocolate glaze.
I think you'll agree--these are completely delightful, sure-to-please-the-little-ones-in-your-life treats.
Cherry Bonbon Valentine's Day Cookies (Vegan)
 1/2 to 1 cup Earth Balance original, melted in the microwave
3/4 cup confectioners sugar
3-4 tablespoons non-dairy milk (I used plain cocount milk)
1 teaspoon vanilla extract
1-1/2 cups all-purpose flour
1/8 teaspoon salt
maraschino cherries 
In a large bowl, cream Earth Balance and sugar until light and fluffy. Add non-dairy milk and vanilla. Combine the flour and salt; gradually add to the creamed mixture.
Note: the dough MAY come out too crumbly, like this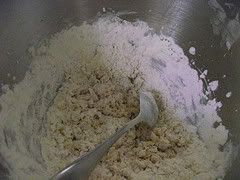 If so, add another tablespoon or two of non-dairy milk, and another 1/2 cup of melted butter. You can also drizzle some maraschino cherry juice into the batter to make it less crumbly. You'll see right away when the dough is right. It should look like this
and feel very pliable.
Scoop out about a tablespoon of dough with your fingers and shape each portion around a cherry, forming a ball. Place on ungreased baking sheets. Bake at 350° for 18-20 minutes or until lightly browned. Remove to wire racks to cool.