Sunday was a grumpy day for all of us. It poured icy rain
all
day long. The kids alternately moped around, pestered us (
play with me
!
play with me
!-Or-
I'm bored! I'm bored!
), or fought and bickered about every minute thing possible (
She breathed on me! He touched my arm!
). We had family visiting for the weekend, and when they sped off on Sunday morning, in a whirlwind, we were left to pick up the pieces of two kids grappling with a healthy case of post-visit, post-spoiling, cabin-fever-induced, flat-out grouchiness. And
Mama
also had a healthy case of the grumps. It wasn't pretty. Something about the unrelenting rain and the whining and fighting and the piles of papers stacked on the coffee table waiting for me made my mind turn to escapism and the thought of summery days. I pined all day on Sunday for the summers of my childhood when school would let out, and no matter how rotten the year had been, or how much the next year loomed ahead filled with math and school uniforms, there was the summer to look forward to. There was the chance to reinvent myself -- to shake the dust off my feet and board an airplane with my family to wing our way over the deep, purple-blue Atlantic, and tumble out the other side into the blinding whiteness of the Greek summer sky. So it wasn't surprising that I indulged in some self-pitying moping on Sunday about wanting to get away, about missing my grandmother, and about the simplicity of childhood summer vacations. Then I woke up on Monday and the self-pity had run its course, or had been buried, temporarily at least, under some three inches of March snow. I looked at my calendar and realized it was "
Clean Monday
"--the first day of Lent on the Greek calendar, and a national holiday in Greece. Tradition has it that the first day of Lent is a time for Greek families to pack up picnics and head out to the beach or to the country to fly kites. Last year the kids and I did fly kites on Clean Monday, but this Monday there was no way any kite flying could happen in the snowy and icy conditions -- although there was plenty of frigid wind to go around. Clean Monday for us is about new beginnings -- the kind that come with spring renewal and promise of a new season. So with no chance for kite-flying, T. and I made two traditional Greek Lenten foods yesterday: A Greek semolina-based
Halva
, and the traditional Lenten bread--a sort of unleavened bread called
Lagana
. It's a bit like a cross between focaccia bread and cracker bread, and in Greece it's only eaten
once a year
, on Clean Monday. Lagana Bread 4 cups all-purpose flour 1/2 cup of olive oil 2 teaspoons dry yeast 1/2 teaspoon coarse salt 1 cup lukewarm water
***Optional: 1 cup chopped kalamata olives. I added olives to one of the loaves, and left the other one plain.
Sprinkle the yeast in 1 cup of warm water. Let it stand for 30 minutes, until frothy (or be impatient and stir to dissolve after 15 minutes, like I did). Make a well in the center of the flour and add the yeast-water mix and oil.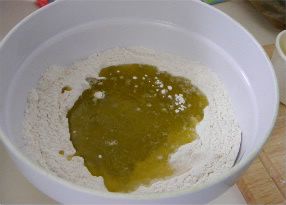 With a wooden spoon, mix to form a dough. Add more water as needed. (**Here's where you will add the olives, if using.) On a floured surface, knead the dough until it no longer sticks to your hands and is soft and pliable. Form into two flat loaves, like this:
Place on floured cookie sheets, cover with a towel, and allow to sit until double in size (again, I was foiled by impatience. I waited 30 minutes, then went to the next step. My dough didn't rise much, but this didn't matter.) While your dough loaves are rising, preheat the oven to 350 degrees. Poke the loaves with your fingers to make little dents, then cover lightly in olive oil. Sprinkle with sesame seeds and coarse salt. Bake for 30-40 minutes until lightly browned.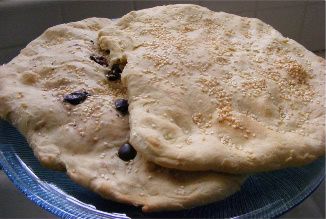 For the Halva, I followed
this recipe
, which was fantastic. The only things I did differently were to use
black raisins instead of golden ones
,
almonds instead of pine nuts
, and I poured
all but about 1 cup of the syrup
in at the end.
Note
: the syrup will not thicken on the stove too much, so don't wait for it to get syrupy. It will still all work out.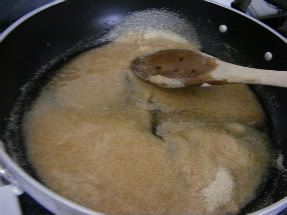 Yes, you are mixing cream of wheat with canola/vegetable oil. Try not to think about this. The cream of wheat will absorb all the oil and then some. The results of this are so worth the oil business. The Greek Halva was warm, creamy, sweet, and just heavenly. I could have eaten buckets of it, it was so soothing and good.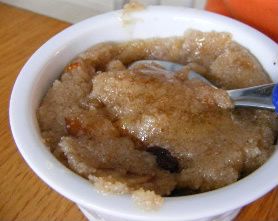 We couldn't picnic outdoors, so we all settled for a family-room, midafternoon, in-front-of-the-fire, post-cartoons, Clean Monday meal, and pretended that the wintry landscape outside our windows was, in fact, a blue and white Mediterranean scene, and that the sea beckoned to us, just a few steps away. Imagination is a powerful thing.