When the kids tumbled out of the van and into my parents' house, with the usual chaos and excitement and pent-up energy after 6 + hours in the van (I think this was the first roadtrip in many that passed so peacefully--no bickering, no meltdowns from L.!), they converged around the Christmas tree, as they do every year, soaking up the look of it, and lifting the lids of cookie and candy tins, just as they do every year. I love watching my kids rediscover all the things they savor about Christmas at my parents' house--this is the best part of the trip for me. L. especially appreciates the now-routine rhythms of the holiday around here--the predictability of what he will find. He gets his own room at my parents' house and it's an added bonus that the same room houses my mom's iMac computer, and plenty of space to spread out his visual dictionaries. 
Last night, as T. stood gazing in rapture at the tree and the Christmas train (Christmas cookie in hand) she said, as she does almost every year, "I wish Christmas happened EVERY day."
By coincidence, the very next day I cracked open a beautiful new collection of Christmas stories at my mom had ordered for the holidays (one of the things I love about Christmas with my parents is discovering all the new books lying around). The first story we read was one I had never read before: William Dean Howells' Christmas Every Day. It was such a good tale that even L. stayed put for a change and listened to the whole thing, from beginning to end.
"Would you still like Christmas every day?" I asked T. at the end.
She shook her head. In the end, we decided, Christmas, like birthdays, was better once a year.
*****************
I showed T. some photo albums, mainly because a few days ago I had told the kids about Christmas in Holland, and the tradition of scattering Pepernoten cookies around for the kids to gather as quickly as they can. T. was really amused by this tradition and wanted me to tell the story again and again. I have a vague memory of being at home that winter we were in Holland and having some neighbors ring the front door and scatter a handful of cookies into the living room. T. couldn't believe there was a tradition somewhere that involved throwing cookies, and I couldn't even get grumpy with her when, later that night, she tossed some Trader Joe's gingerbread cookies onto the kitchen floor.
Anyway, I couldn't find any photos from our Christmas in Holland, and so that day remains dream-like and elusive. But I did find this photo of my parents' mantle from Christmas Day, 1987.
Christmas Day 1987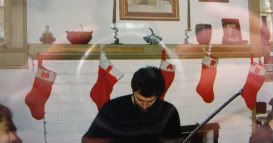 Five stockings! How strange to imagine that there was a time when we only had five stockings hanging over the fireplace. Now, my parents' mantle looks like this:
Christmas Day 2010
Twelve stockings! An abundance. I love seeing all those stockings hanging there and thinking about how our family has grown--how far we've come, and how much love each stocking represents.
And now Christmas 2011, brings one new stocking! For the littlest family member, who is only eight months old this year...if you celebrated Christmas, I hope it was a happy, safe, warm, and wonderful one. We're off to go ice skating at the sculpture garden in Washington, D.C. today, and then we'll stop by to visit the National Christmas tree.
Happy Boxing Day to all!