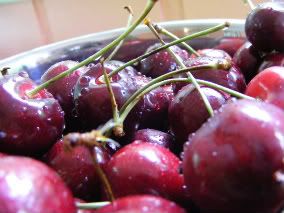 I've been on a big cherry kick lately. There are some fruits I obsess about--
figs
, for instance, or
blackberries
--lately, it's been cherries. I'm not sure we bought any cherries last summer, but this summer
I can't get enough of them
.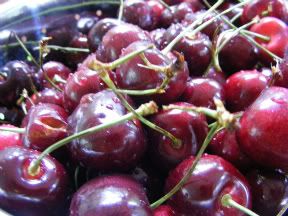 I think it started last month, when L. remembered, out of the blue, eating a big bowl of cherries at a gas station in some remote part of Greece while we waited for a rental car to be repaired. I had completely forgotten that memory; it had been supplanted, understandably, by the stress of that day--broken down car on the National Highway, being towed precariously to the station, the heat, a tired two-year old T. I was amazed that L. remembered the cherries. I was amazed because last time we were in Greece he was only five, but I was more amazed because L. NEVER has food memories. Ever. The fact that he remembered the cherries brought my own flood of memories back: the blue paint on the shutters of the repair station, the white-hot afternoon heat, the crisp bite of sweet cherry giving away to the red juice inside. Anyway, it's been cherry this and cherry that since then. Mainly we've been eating them by the handful, and chopping them up into summer salads, tossing them over cold cereal, but last week I made a perfect fresh cherry pie and brought it, still warm and wrapped in a dish towel, down to the pool. Yesterday I bought another sack of cherries and made a cherry compote. (COMPOTE not COMPOST as T. likes to call it.) Compotes are an easy, quick, and satisfying way to use up summer fruits. My grandmother used to make compotes all the time--out of sour plums, peaches, apricots, and even cherries. You can eat fruit compotes a million and one ways, almost: on toast in the morning, stirred into yoghurt, heaped over granola or, more sinfully, over ice cream. You can spoon compote over waffles and pancakes, or spread onto bread with goat cheese for a quick but gourmet sandwich spread. The only tedious part about using fresh cherries is, of course, pitting them. But back when we lived in Rochester, NY, I bought an inexpensive cherry pitter. It looks
like this
: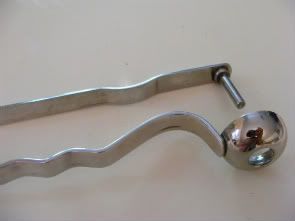 It can also be used to pit olives, which is what I bought it for. During our pre-kid, graduate school days I used to do crazy things like whip up olive pies for a quick Friday night meal with friends. I was happy to see I've still got the touch: I pitted the entire sack of cherries in 22 minutes. It's not hard if you put on
some good music
and can manage to work uninterrupted by timing the cherry-pitting for rest-time, when one child is transfixed by a
Care Bears
movie and the other is in front of the computer researching Bedouin tent life.
Fresh Cherry Compote
(adapted from
here
) 1 pound cherries, washed, pitted and halved 3/4 cup water 1/4 cup lime juice 1/2 cup sugar 1 tablespoon cornstarch 1 tablespoon orange juice In a medium saucepan, combine the cherries, water, lime juice, and sugar. Bring to a boil. Reduce the heat to medium-low and simmer for 15 minutes, stirring occasionally. In a small bowl, combine the cornstarch and orange juice and add to the cherry mixture. Return to a boil and cook for 1 minute, stirring. Reduce the heat to low and simmer until thickened, about 4 minutes.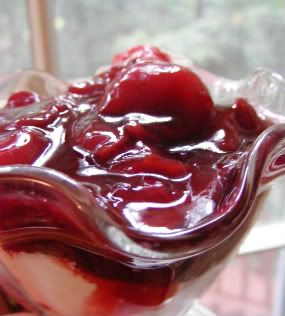 Utterly heavenly the sinful way--on top of vanilla ice cream!
Happy Weekend...