Yesterday was Epiphany, and I might have not thought about it until much later in the day except that my mother was visiting. Before she left yesterday morning, she remarked wistfully over breakfast that it was Epiphany. She used to time her visits to Greece to coincide with the day, and she and my grandmother would walk down to the beach front promenade, Flisvos, and watch as a cross was thrown into the ocean and shivering divers leaped into the water to retrieve it. I'm glad my mother reminded me of that image; I could immediately conjure up a mental picture of my grandmother, a scarf wrapped around her head, perhaps, looking into the water, bracing herself against the wind, feeling that quiet sense of closure you get at the end of the holiday season.
The kids and I took down Christmas yesterday. Well, T. and I did--L. threw out comments from the office now and again, and he emerged briefly to put a little "time capsule" note to Christmas next year into one of the storage bins. This is a tradition we started last year. The note is never anything heavy or lengthy; just a silly picture or two, but when we pull it out of the ornaments box there it is--T.'s way of drawing faces, her wavy letters, L.'s handwriting, frozen in time.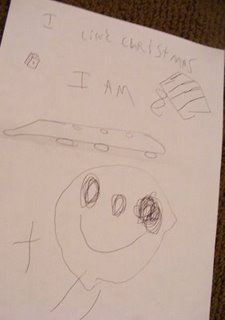 I hadn't planned on taking down all of it yesterday, since it seemed such a daunting task for the end of the day on a Tuesday. But once we took the ornaments off the tree, it looked so bare and plain that we ended up wrestling all the branches off the metal tree trunk and packing the whole thing away in its long white box. Even though it was a little sad to see Christmas all boxed away, along with the echoes of all the excitement that had surrounded setting it up, it was kind of nice to get the dining room back, and the top of my buffet, and one of our dining room windows.
"There's always something fun right around the corner," I told T., in a hearty voice so she wouldn't get too bogged down by the dismantling of Christmas.
"Like my birthday?" she asked (it's next week). We talked about the long string of holidays and celebrations to come, and just when I thought I was okay packing up Christmas, I realized that this time next year T. will be teetering on the edge of SIX, and L. will be firmly rooted in NINE, and I--oh boy, I will be FORTY.
Suddenly I didn't feel so hearty anymore.
************
What better way to warm up a dreary, post-Christmas, I'm-not-hearty-anymore, I'm-a-year-away-from-forty, the-dining-room-is-all-bare evening than a winter cauliflower dish, bubbling from the oven, melted cheese oozing out from in-between golden bread crumbs? If you don't like cauliflower at all and it does the opposite of cheering you up, skip this. I'm not in love with the vegetable myself, but when I was shopping the other day I saw the cauliflower, fresh and crisp-looking next to some red peppers (which I needed for bean burritos) and just felt like I must buy some.
Cauliflower Cheese (Cheer Me Up) Casserole*
*adapted from here
1 medium head cauliflower, cut into florets (about 16 ounces frozen florets)
2 tablespoons butter or butter substitute
2 tablespoons all-purpose flour
2/3 cup milk
1 egg yolk, slightly beaten
8 ounces sharp cheddar cheese, shredded or cubed
salt and pepper to taste
1/2 teaspoon spicy brown mustard
6 slices toasted bread
1/4 cup soft bread crumbs
Cover cauliflower with salted water and bring to a boil. Boil for about 5 minutes or just until tender. If using frozen cauliflower, follow package directions.
Drain, reserving about 2/3 cup of the cooking liquid. Keep cauliflower warm while making sauce. Heat 2 tablespoons butter in a medium saucepan over medium-low heat; stir in 2 tablespoons flour and cook for 1 to 2 minutes. Gradually add the 2/3 cup milk and the reserved 2/3 cup cooking liquid. Remove from heat and quickly stir in lightly beaten egg yolk and cheese. Return to heat and season with salt, pepper and mustard.
Cook on low until cheese is melted. Butter a shallow baking dish. Arrange the 6 slices of toast in 1 layer (trim to fit if dish is an oval shape), and top with cauliflower. Pour sauce evenly over the casserole then sprinkle with bread crumbs. Bake at 425 degrees until browned, and the cheese is bubbly.