Quite a few years ago, when I was in high school and my sister and I were in Greece for the summer, we took a train to visit an aunt-by-marriage and her son (our cousin) in Thessaloniki, in northern Greece. When I think about the many stand-out moments in my life so far (and there are, fortunately, many) I always think about that particular trip and about the time we dug out hollows in the sand on the beach, wedged our sleeping bags into the cool spots and spent the night under the stars. It's not the going-to-sleep part I remember, but the waking part. For the first and only time so far in my life I woke that morning on the beach feeling completely in sync with my surroundings. The early sun over the water, the quiet lap and drag of the waves on the beach--these things had worked their ways into my senses while I slept and when I woke it wasn't with the feeling of broken continuity I seem to have these days when I wake up, but with a real sense of the cycle of sleep leading to wakefulness; dark to light, effortless and natural. I've been thinking about that trip a lot this summer, and not just because our own beach vacation was such a wash-out. While I miss my grandmother constantly, it is in the summer that I feel her absence weighing heavily around me, pushing on me like an invisible hand. The day my sister and I left for our Thessaloniki adventure my grandmother saw us to the train. She had made a glorious loaf of olive bread for us the night before--it was crusty and salty, and when you broke inside the outer crust the dough within was moist and bursting with briny, meaty, kalamata olives. She packed sweet green grapes, too, and when my sister and I dug into our lunch on the train later that day I remember the passengers around us looking in envy at our simple feast. For me, then, olive bread has become the consummate symbol of what summer has come to mean--of what I have and what I have lost; of the sweet ache of life embodied by the bread, with a bitter bite of sadness kneaded in. I made a massive loaf of my own olive bread yesterday, and as I added flour and kneaded and listened to T.'s chatter, I closed my eyes--just for a second or two--and saw my grandmother standing over me, in a simple skirt and summer hat, her eyes smiling just so slightly at my work. ***********
Olive Bread
(adapted from
here
) Making the bread is more of a process, then it is a difficult task. First, make the starter: 1 cup warm water 1 tablespoon yeast 1 cup flour (I used all purpose) Combine the water and yeast for the starter in a bowl Add the flour and stir, until the starter resembles white paste. Then, cover and let it all mix and mingle for about 30 minutes (I left mine for over an hour and it was fine)--go to the pool, head out to the store--it will be fine on its own. For the dough you'll need: 1/2 cup warm water 2 tablespoons olive brine (I used some from a jar of kalamata olives) 4 teaspoons yeast 4-5 cups flour. I used four, then added more as I kneaded the dough. It might need as much as a cup more to keep it from being too sticky. 2 teaspoons salt 1 cup or more kalamata olives, pitted. I think I probably went nuts and used almost 2 cups. I like my olive bread bursting with olives. I used half jarred kalamata, then I pitted the rest--olive bar olives have better flavor, I think. Now, combine the water and yeast. Stir to dissolve the yeast fully. Add the flour, salt, brine, starter and olives. Stir until dough is fully developed, adding additional flour to keep the dough from being too wet. After you have mixed and kneaded, shape the dough into a rounded loaf. Cover with a towel and let rise for about 30 minutes.
Preheat oven to 425 while dough is rising. Next, score the top of the loaf with a knife and brush or spray with a little olive oil. Just as you are about to place the bread into the oven, pour about 1/4 cup of water into the bottom of the oven to create steam. Keep door closed (I have to say I opened the door twice and it still came out fine). Bake for about 30 minutes, or until the top is golden brown.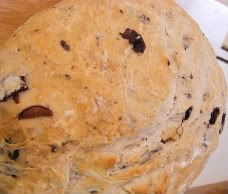 I dare you to wait until it's cooled! This bread is so heavenly, it cries out to be topped with a salty piece of feta cheese, or a wedge of ripe tomato. We ate almost half the loaf for dinner, and used the bread to sop up the olive oil left from our meal. The next day the kids ate hunks of it on the screened-in porch--with grapes, of course.