Sometimes I get bogged down by the realization that this past school year for L. feels like such a wash. Really, a big wash. I suppose not every year in a child's school life can be profitable or good, or rewarding (or all three), even for parents who homeschool--sometimes you just get an "off" year. I was talking not long ago with a homeschooling mom and she told me the first 8 months of their foray into it were pretty rough. It took them close to ten months to establish a comfortable routine; for she and her husband to get to know their son's learning styles and for them to come up with a game plan for dealing with the daily challenges. But of course during all this the upside was that she was investing in time with her child, and working through these challenges together must be so much more rewarding then doing it all through back and forth e-mails with teachers, and edgy, frustrating, maddening emergency IEP meetings, and the so-hard-to-swallow bitter resentment towards your child's school that can even build up over one year. But I've been learning to take a step or two back now and again, and to realize that maybe losses (or dead standstills) in some areas have also given way to gains and triumphs in others--even if they've mostly all occurred outside of the school day. L.'s reading, for instance, has finally exploded this year--really exploded. He's always loved books, but he has not always been a great self-reader of books--preferring catalogs and visual dictionaries over traditional books. He still keeps a huge stack of
Sporty's Pilot Shop
catalogs by his bed, along with miscellaneous office supply catalogs and his beloved
Overton's
, but this year he's read more books than I can count. In fact, everywhere we go, he carries a book with him, choosing to sit under a tree and read when we go to the playground, rather than run around. At first I was a little bothered by this, I must admit. I wondered,
is he withdrawing even more from the world around him
? Is he, at eight, becoming even more a social hermit, a recluse? Isn't play with peers essential for a young child? But then I realized that losing himself in a good book when we're out and about--at playgrounds, or coffee shops, getting a haircut, or at outdoor festivals (as we were last weekend) gives him the chance to center himself; to root himself in the solid and safe comfort of words on a page, chapters in a book--and the more formulaic the book, the better. The messy, chaotic, infinitely unpredictable public world is a worrisome place for L., and if he has found an anchor to help him through it all--a safe haven, then this is a truly wonderful thing. We bask in the pride we feel at the stares and comments L. gets when he's out and about with his books. Maybe it's a rare sight these days: a boy with a book, but people always stop and praise him for reading, and this praise is beginning to rub off on him. The damage done to his self-esteem this past school year has been difficult for all of us, but just as there are little glimmers of light here and there through the setbacks and challenges we've faced this school year, we see the same steadfast sparks igniting in L. little by little: kindling pride in himself, joy at his abilities, power over the world around him, love for himself and who he is and all that he is capable of doing.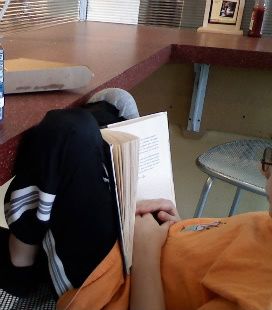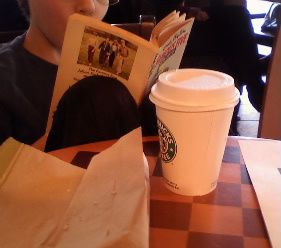 A boy and his books
**********
Happy reading...and happy weekend
!