Saturday was what we call a "Lego day" at our house. From the minute L. woke up to almost the minute he went to bed, he spent hours with his Legos, building one Star Wars battle cruiser after the other. It didn't hurt either that I took him to his first play date in months--at the house of a fellow Lego-enthusiast. They spent almost two hours at opposite ends of the boy's playroom, each engrossed entirely in their own Lego creations. It was, by all counts, a most successful play date.
The September after T. was born, my brother sent L. a late birthday present--a large bin of Legos. T. wasn't napping very well then, since it had only been two months since her surgery. By the time I left to pick L up from preschool, T. was a fussy, fussy mess. I'd get L. from his classroom and whisk him home, hoping and hoping I could finally get T down for a short nap so we'd have some one-on-one time together, L and I. Some days we'd be lucky and T. would sleep for thirty minutes or--glory be!--one whole hour and L. and I would make the most of every minute. After the blue bin arrived in the mail, one happy afternoon, we'd spend T.'s nap time on the floor in L.'s room, sifting through the Legos the way you sift through sand at the beach-exclaiming at the different pieces, the colors, the possibilities. The house was quiet, and the only sound around us would be the click-click of the Legos snapping together, and the sometimes melancholy, sometimes cheerful notes from some symphony or other playing on the radio in L.'s room. That next year, as we adjusted to the move from a family of three to four, I thanked my brother over and over again for that blue Lego bin, and for the accumulated hours L. and I spent in contented, near-silence together, building so much more together--rebuilding so much more.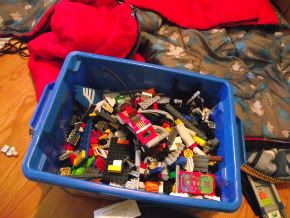 That Lego bin still brings us together--it was truly one of the best gifts he ever received. Six years later, and many more Lego pieces later, we're still pulling that bin out from time to time, to sit and build together, to rebuild together, to contemplate the possibilities of each tiny piece. 
************************
Santa brought T. a sewing machine for Christmas, and for T.'s birthday my sister--who also always manages to give the kids the perfect gifts--put together an amazing sewing box, filled with all kinds of goodies.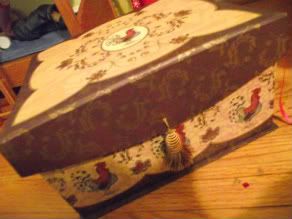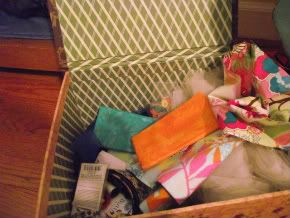 There are beautiful and colorful swatches of cloth: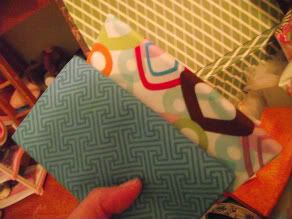 And lots of buttons and ribbons and even some charming patches: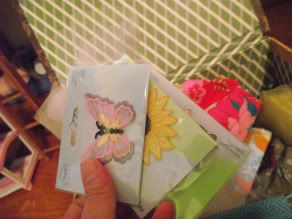 I spent Saturday working on Legos with L., and most of Sunday sewing with T. I'm really no sewing whiz, and it takes me longer to thread the needle and get the whole bobbin business worked out than it takes to even sew a simple line of stitching. But I have to show off the first real thing we made: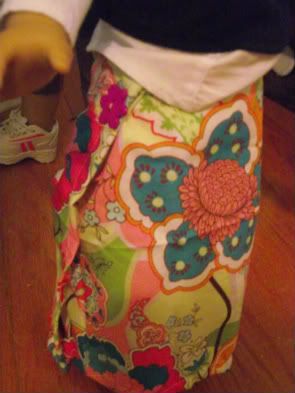 A skirt for T.'s doll Lanie. It has real seams and a button and everything!
T. has big dreams for a blouse and matching cardigan, but I think we might get stuck on long skirts for awhile. And pillows--those are easy, too. Our next project, in fact, will be to make a small round pillow for a thrift store find I scored last week for $1: a wicker peacock chair for T.'s American Girl dolls.