In the middle of a lot of chaos yesterday I wrote up my post for today and then Photobucket froze my laptop while I was loading pictures and the post was lost. I ranted and raved a little and closed my laptop for the rest of the day. We finished with the chaos (more on that in a minute) packed up the kids for the pool and flopped there for awhile, eating our veggie burger sandwiches and commiserating with friends about all the chaos we'd waded through.
The good news: L.'s loft bed is assembled!
The bad news isn't so bad anymore, because we're out the other side of it all. But it included lots of frustrating phone calls with Ikea, sold out furniture at the three nearest Ikea stores and no chance of a new shipment until September maybe, a really upset 11-year old boy, Craigslist, a nice lady from Trinidad with a barely used Tromso loft bed with all hardware included, a trip to Lowe's to find replacement screws because all the hardware was NOT included, and seven hours we may never get back. Oh, and one heroic, patient, amazing husband, who worked miracles with a ziploc bag filled with assorted screws and bolts, an allen wrench, and online assembly instructions.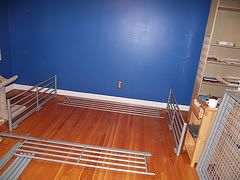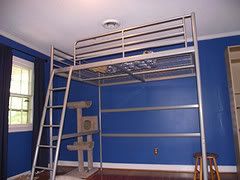 What do you think? It's a lot of blue! I'm not sure I would want to sleep up there, but I think it will fit L. just fine. He's thrilled with his "nook" up high, and he's been wanting some sort of ladder in his room since he was three years old. 
Here's another picture of his room/bed, and you can see a corner of the new carpet he got for his birthday, too. We still have to buy him a new mattress--the one that's on there now is an old futon mattress we have, and the desktop piece, which one of he three Ikea stores has in stock, thank goodness, even if they are inexplicably completely sold out of the loft beds.
.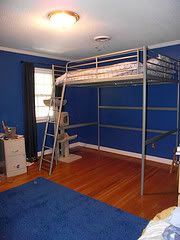 I think we're getting closer to the bedroom L.'s been dreaming of. We're heading out-of-town today, for a whirlwind weekend to Virginia that will certainly include a trip to Ikea and, for T., a stop at the new American Girl store. See you on the other side!