T. and I are very alike, in that we both love to plan a good party. And even though T. has to wait the same amount of time for her birthday to roll around as everyone else, I think there's something about having a January birthday that makes her think she has to wait longer. As a result, she often starts planning and talking about her birthday party as early as Halloween, and by the time we're opening up that first Advent calendar window, she's got most of the details of her party pretty well worked out.
Last year, T. had a puppy rescue party, and it was a huge hit. The year before that, she picked "arctic animals" as her theme, and I think that was one of my favorite parties, yet. I loved how the cake turned out, and my parents were there to help with the party preparations, making it all more special.
This year, T decided that she wanted her party theme to be "travel around the world with me". 
I loved her idea! We kept the cake simple, just her favorite round chocolate cake (Naturally Nora mix, veganized), encircled with tiny flags from around the world.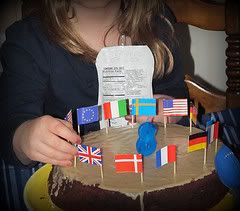 FYI--her hand is covering up the Greek flag! She plucked it off the cake before anyone else could take it.
We kept the munchies simple. I bought some Chinese rice crackers, and some individually wrapped candies; we had Japanese mochi, and dried mango from Thailand; some fried red bananas (like plantains) from Honduras, dried breadsticks from Italy, and plantain chips from Nicaragua (oh, and T.'s idea--kettlecorn from the US!).
L. printed out flags and T. taped them to wooden dowels. We propped up the flags in the bowls with the muchies, so the kids could see where each snack came from. I wanted to make something Greek, but I was a tad overwhelmed this year (baking the cake right up until the 11th hour), and just couldn't pull off anything else. As it turned out, the simple munchies were just right for small hands, and any additional food might have been overkill.
For the crafts, we brought in an extra card table and set it end-to-end with our kitchen table. For some of T.'s parties it's been warm enough to have the crafts on the screened-in porch, but this year it was too cold. I covered the tables with an inexpensive plastic tablectloth, and we moved some of the chairs out of the way to make room for the kids. 
The main craft was to make painted Russian jeweled eggs. I found very inexpensive small wooden ones from Michaels, and T. and I had lots of fun picking out sheets of stick-on jewels (I might have gone a little overboard in that department). Then we set out blue paint, and stuck paintbrushes in empty glass jars.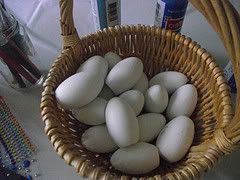 The eggs were a big hit. They dried in about fifteen minutes, so the kids did that craft first, then moved on to some of the other ones. We provded plain brown paper goodie bags and told the kids they could decorate their own with travel-related stickers and an assortment of markers and crayons.
The kids could also pick out a "travel journal" and use that as a sticker book, or save it for later.
We also had a stack of colored paper, plain white paper, and plastic drink stirrers so the kids could make their own flags. I printed out some pictures of world flags so the kids could have some examples, or use their imaginations and create their own flags.
We bought some easy-to-fold origami paper, so the kids could try their hand at some simple patterns. Most of the kids chose to take the paper with them in their goodie bags, since I think origami folding of any type took a little more concentration than they had at that time!
We didn't do any party games, but the kids busied themselves with the craft table for a good amount of time. Some of the kids got to work on the jewel part of their jeweled eggs right away, but others ran off and played, and came back much later to stick the jewels on. At the end of the party, we made sure each guest had an egg, a travel journal, a sheet of origami paper, and a flag, all tucked inside their own decorated bags!
Beautiful!