I think there's a famous saying that in order to truly appreciate a place, you have to leave it first. This applies so perfectly to how I feel about Washington, D.C. When I was growing up, we were only a short car drive away from the heart of the city. Sometimes on the weekends, as a treat, we would drive down to the museums, and as an even bigger treat, we sometimes would get lunch or a snack at the Cascade Cafe (at the National Gallery of Art). Sometimes we'd get to ride the carousel; other times my parents would buy us a bag of popcorn, or a street pretzel from the vendors along the Washington mall. In the summer we might get one of those red, white, and blue rocket popsicles we loved so much. Eventually the metro extended all the way to a few blocks from my parents' house, and when we go back home now we can walk to the station and take a 25-minute ride into the center of the capitol city.
I worked in D.C. for a few years after college and in between graduate schools. For many years, too, I longed to escape D.C. It seemed to me a sometimes dark, crime-filled place, and the daily commute back and forth on the metro, the jostling of too many people, the rush up the escalators at every station, just grated on me (of course, being nearly mugged by a group of kids--kids!--didn't help). Strangely--and sadly--in those years when I worked in D.C., and during the one year when Scott and I lived a block from the border between Maryland and D.C., we never really made use of all the city had to offer. I worked there, but was happy to escape at 6:00 each day and head back to the relative quiet of our neighborhood. We didn't go to the museums much, and although I did make use of the shopping, we didn't really soak D.C. life for all it was worth. We had our sights set on graduate school and escape to some new adventure, some quiet town somewhere, new digs for our newly married life.
I've found in recent years that a new love for D.C. has been awakened inside of me. There's something about visiting a city with children that makes you take a good look around and really see a place in a different light. Even riding the metro becomes a fun, adventure-filled experience. When tired metro riders saw T. chattering with excitement about the tunnels and the signs inside the car, their faces relaxed a little, and they smiled. I saw buildings I'd seen all my life look different now, as L. pointed out interesting architectural details. And when the ticket machine spat out this card: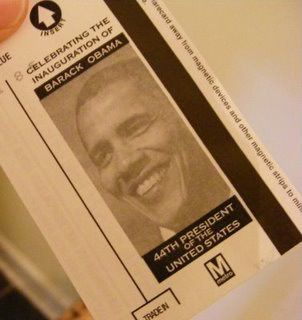 I felt a huge thrill of excitement. There we were in the heart of D.C., only weeks away from the presidential inauguration, passing bleachers already set up along streets, with the U.S. Capitol building looming grandly in the background. I'm still not sure I'd want to live in the heart of D.C., or raise my kids in any busy city, but going back there now with my own kids gives me the chance to relive some of my best childhood moments, and to share them with my own children; it awakens in me a sense of pride and love in the city that was such a backdrop of my life for so long.
*************
If you do get the chance to visit D.C. in the near future, definitely check out the newly remodeled National Museum of American History. We've been waiting FOREVER for it to open (it was my favorite museum when I was a child), and it finally opened this month. Going the day after Christmas was probably not the best choice in the world, but the museum was so worth the crowds. We couldn't tear L. away from the transportation exhibits on the first level, and T. was mesmerized by the huge dollhouse, just the way I was when I visited the same place as a little girl.