I enjoy going to our neighborhood pool--I truly love it. And I definitely enjoy packing a post-swim team practice poolside dinner for us all (well, minus L. who refuses to eat food at the pool). But it's hard work to get it all together some nights--
really
hard work--made even more difficult when your kids are, after a full two and a half weeks of summer vacation together, starting to get on each other's nerves and you're not only cooking dinner ahead of time, but also playing referee, diplomatic mediator, judge and jury, and sometimes fed-up dictator. And this week I have to say I started feeling a tad burned out with all the work that sometimes goes into preparing for the pool, which is unfortunate because by my calculations, there are about 86 days of pool time left before it's closed for the season. And if we continue to eat there out of necessity (and enjoyment) 2 or three days out of the week, we might have about 30 more dinners to prepare and pack before September settles in. I'm feeling tired. I have come up with a list of fairly safe, standard poolside dinner fare, though, and this helps. Things like:
Veggie burgers
. Microwave these ahead of time, garnish (or pack the condiments separately), place in buns and wrap tightly with foil. The veggie burgers keep warm pretty easily, and even if they're not piping hot, they're still pretty tasty--unlike, I would imagine, an actual hamburger.
Cheese tortellini
. T's favorite kind of pasta. I'll cook a big pot in the afternoon and we'll take a tupperware of these to the pool. They are great cold or warm, and sometimes I'll toss some in a salad and take the salad with us.
Morningstar vegetarian chicken nuggets
. Like veggie burgers, these keep warm well when wrapped in tinfoil. I always bring along a small tupperware filled with honey, for dipping.
Veggie wraps
. If we have lots of fresh veggies on hand I'll cut some up and wrap them up in tortillas along with some snips of fresh herbs (basil for most, sometimes mint, sometimes cilantro if the wrap is more "Mexican").
Quesadillas
. We usually make fresh spinach and cheese ones, but sometimes I'll get creative and throw in some extra veggies. If you cook them ahead of time you can eat them cold, with a dollop of salsa on the side, and some
cold bean and corn salad drenched in lime juice
--also a quick portable dinner staple. About once a week I manage to pull off more gourmet--or at least more imaginative fare. Last week T. and I made watermelon pops, which couldn't have been easier. I love to take watermelon to the pool or the beach, but it often gets too soggy, juicy, or warm. Instead, we sliced up hunks of melon, skewered them on chopsticks, and froze them beforehand. Frozen watermelon is, in my opinion, the best natural popsicle there is, and the kids thought so, too. The watermelon pops will stay almost frozen for awhile even if you take them with you to the pool--and they are perfect right out of the freezer at home for a cool treat.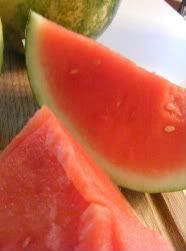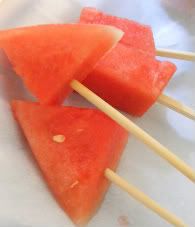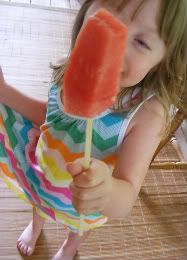 We paired these pops with my sesame noodles--a dish I am proud to say most people rave about. I have yet to meet someone who doesn't enjoy sesame noodles, and it's usually a dish to please even the pickiest kids (and I know because I have one of those).
Sesame Noodles
1/4 cup light soy sauce 1/4 cup rice wine vinegar 6 tbsp cold water 1 tbsp sugar 1/2 tsp salt 2 tsp minced fresh ginger 1 tsp minced garlic 6 tbsp peanut butter--or, 5 tbsp peanut butter and 2-3 tbsp
tahini
paste (this adds some extra nuttiness to the noodles) 3 tbsp Asian sesame oil *optional 1 tsp hot chili oil 1 package dry linguine or spaghetti, cooked
al dente
Place the soy sauce, vinegar, water, sugar, salt, ginger and garlic in a blender or food processor. Process on high until the ginger and garlic are smoothed into a liquid. Add the peanut butter (and tahini, if using) and blend for about 1 more minute. If using chili oil, add this AND the sesame oil. Blend some more. Place the cooked noodles in a large bowl, pour the sauce over, and toss to coat. Note: if you're making these to serve later, reserve about 1/2 cup of the sauce to "wet" the noodles again prior to serving.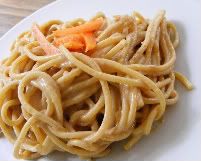 Please share your portable meal favorites--I'm running out of ideas, here!
Happy Weekend
!